Curtains
Curtains are a traditional style of window dressing and add a touch of class to any window. Curtains are perfect in every room of your home. All our curtains are made to measure and hand sewn. We also offer matching pelmets, tie-backs and cushion covers in a variety of different shapes and sizes.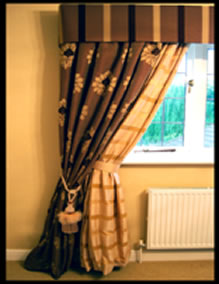 Not only is there a choice of hundreds of fabrics in a range of colours, patterns and textures, a selection of heading styles and decorative accessories, such as poles, finials and hold backs are also available. If you are unable to find the perfect fabric from our range you can supply your own fabric for us to make your curtains from.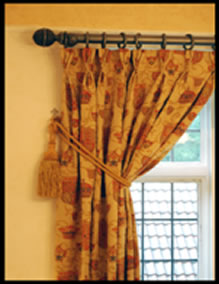 A number of linings are available to enhance your curtains, standard lining, interlining and blackout lining. We recommend all curtains are lined as this protects the fabric from fading and acts as insulation for your windows in summer and winter.

Quick Jump Menu
- Home Page - Our Products - Buy Online - About Us - Installation - Photo Gallery -Contact Us - Useful Links -

IT To Go - Computer Services
Sales & Support: (01302) 352352 Fax: (01302) 352352 Mobile: (07719) 660777
Website: www.ittogo.co.uk Email: sales@ittogo.co.uk or support@ittogo.co.uk

This website, and all its content has copyright © by www.ittogo.co.uk.
All rights reserved, please read our terms and conditions and site disclaimer.